Devi Ratnasari, Miskanik Miskanik, Ayu Rahmaniah
Suhendri Suhendri
Masnurrima Heriansyah
Riska Andriani
Current Issues
Galang Surya Gumilang
Innovative Methods
Dominikus David Biondi Situmorang
Christine Masada H Tobing, Maria Oktasari, Hayu Stevani
TERAPUTIK Jurnal Bimbingan dan Konseling (ISSN
2580-2054
for electronic version and ISSN
2580-2046
for print version) First published in June 2017 is a peer-reviewed scientific open access journal. The journal is dedicated to publishing articles concerned with research, theory development, or program applications related to counseling, applied psychology, and counselor education. The journal is concerned with the preparation and education of counselor(s) to apply counseling with high responsibility in agency or school settings; in colleges and universities; or other society levels. The journal is published by
Universitas Indraprasta PGRI
in cooperation with 
Ikatan Konselor Indonesia.

Authors who intend to submit a manuscript for publication in this journal obliged to understand correctly the instructions and the ins and outs of the provisions on this journal. For authors who have never published the article on this journal, we recommend reading all of the term and conditions are listed in the journal. Authors are requested to prepare a manuscript in accordance with the Instructions for preparation of manuscript and then to follow the Author Guidelines for submission. Before the manuscript is submitted to the editorial team, please make sure that your paper is prepared and refer to TERAPUTIK Journal for writing format and style (Please download the template for the initial manuscript submission). This will ensure fast processing and publication. Any papers not fulfilling the requirements based on the guidelines to authors with great regret will not be processed.

TERAPUTIK Journal published three times a year (February, June, and October). The author who will submit the manuscript after deadline of submission as long as meet the requirement for publication in this journal will be process for next issue. The paper submission and reviewing procedures in TERAPUTIK Journal will be processed with the web-based system via the Open Journal System (OJS) by Public Knowledge Project (PKP). We strongly prefer to receive manuscripts via our online submission system. With using our OJS system, authors can upload manuscript files (text, figures, and supplementary information) directly to our office and check on the status of Reviews their manuscripts during the review process. First, kindly please register as an author, and then you should login to submit your papers. Please don't forget to tick author when you make a registration. The most important things in this stage that all of the authors must have a ORCID ID, if you didn't have yet please make your ORCID ID in https://orcid.org/. Registration and login are required to submit items online and to check the status of current submissions. Copyright of all material published in this journal remains with the authors. Authors grant TERAPUTIK Jurnal Bimbingan dan Konseling the right of first publication.

The publication of the manuscript in this journal may be charges (APCs). APCs grant to the authors for cover publication cost. The APCs waiver can also apply or given for with some of the provisions. Please take a look Article Charges and waiver for detailed information.


Online Submission
Already have a Username/Password for TERAPUTIK Jurnal >> Go to Login
or Need a Username / Password? >> Go to Registration

Our Timeline and Publications
Do you want to look our latest publication >> Current
or See all our publication >> Archives
If you have some problem or questions, don't hesistant >> Contact Us

For quick response please send by email to teraputikjurnal@gmail.com. Please mention your subject: Your Name and what kind of your problem with our Online Submission system.  Our team will reply to all your questions or problems related to our Journals as soon as possible or at least 24 hours after you sent the message. Thank you for your patience.


This journal indexed and/or available catalogue in:

Connect with your personal academic repository and researcher hub:

Dedicated to:
Universitas Indraprasta Today
SISWA SMK PURNAMA 2 GOMBONG DAPAT PELATIHAN UNBKP DARI UNINDRA

Selarasindo.com—Sebanyak 104 siswa/siswi kelas 12 SMK Purnama 2 Gombong, Kebumen Jawa Tengah, Sabtu 9 Februari 2019 dilatih dalam rangka menghadapi UNBKP (Ujian Nasional Berbasis Kertas dan Pensil). Kegiatan mandiri ini merupakan hasil kerjasama dengan Universitas Indraprasta PGRI Jakarta dalam Program Pengabdian Kepada Masyarakat (ABDIMAS) bidang pendidikan. Tim dosen Unindra Jakarta bidang pendidikan yaitu TRYOUT/SIMULASI ujian […]
Posted: 2019-02-11
More...

Peran E-Commerce dalam mendukung kemandirian ekonomi. Program Studi Informatika Unindra Pusat Kajian Inovasi dan Teknologi (SAKAINTEK)

e-commerce adalah suatu proses penjualan dan pembelian produk maupun jasa yang dilakukan secara elektronik yaitu melalui jaringan komputer atau internet. Arti lain dari e-commerce yaitu penggunaan teknologi informasi dan komunikasi pengolahan digital dalam melakukan transaksi bisnis untuk menciptakan, mengubah dan mendefenisikan kembali hubungan yang baru antara penjual dan pembeli. Perkembangan dunia semakin tidak ada batasnya […]
Posted: 2018-09-29
More...

"Bakti Unindra Bagi Negeri" Refleksi atas pelaksanaan pendidikan dan pengajaran di Indonesia

"Jangan tanyakan apa yang Indonesia berikan kepadamu, Tapi tanyakan apa yang kamu berikan kepada Indonesia". Dalam kegiatan ini, Program Studi Pendidikan Sejarah Universitas Indraprasta PGRI menyelenggarakan Seminar "Bakti Unindra Bagi Negeri" bertajuk Refleksi atas pelaksanaan pendidikan dan pengajaran di Indonesia. Peresmian dibukanya acara ini oleh Prof. Dr. H. Sumaryoto selaku Rektor Universitas Indraprasta PGRI dan […]
Posted: 2018-09-29
More...

Festival Hias Tumpeng

Antusias yang sangat-sangat besar dan menarik dari Mahasiswa Pascasarjana (S2) Universitas Indraprasta PGRI yang selalu menyemarakan Pesta Ulang Tahun Universitas Indraprasta PGRI ke 14 dengan berbagai kegiatan yang bertemakan tradisional salah satu kegiatan yang sekarang sedang dilakukan yaitu " Festival Hias Tumpeng", dalam sejarah Indonesia Tumpeng merupan salah satu cirikhas kreasi Makanan dalam merayakan acara. […]
Posted: 2018-09-29
More...
Announcements
Thank you for your support succeeding improvements of the Teraputik Journal. We are truly pleased for you to be a significant part in this progress for reaching the better journal. We are committed to promoting all aspects of management, and substance on Teraputik Journal. For that, we would like to communicate to all reader(s) and author(s) that since Volume 2 No. 1 (2018) Teraputik Journal decides to apply the new templates and layout. Thank you for your attention.
Editorial Office:
Department of Guidance and Counseling
Faculty of Education and Social Sciences
Universitas Indraprasta PGRI
Campus A : Jl. Nangka No. 58 C (TB. Simatupang), Kel. Tanjung Barat, Kec. Jagakarsa, Jakarta Selatan 12530 Telp. (021) 7818718 – 78835283 Fax. (021) 29121071

Campus B : Jl. Raya Tengah No. 80, Kel. Gedong, Kec. Pasar Rebo, Jakarta Timur 13760 Telp. (021) 87797409 – 87781300

Website: https://unindra.ac.id/ ,e-mail: kampus@unindra.ac.id, teraputikjurnal@gmail.com.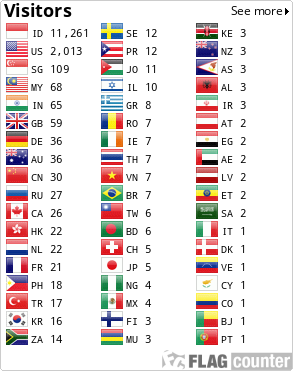 TERAPUTIK Stats