Heru Mugiarso, Ninik Setyowani, Latih Buran Tedra
Caraka Putra Bhakti, Muhammad Alfarizqi Nizamuddin Ghiffari, Swiejti Maghfira Regita
Akhmad Rifqi Azis, Prili Aprilia Salam
Hotmaulina Sihotang, Stevanie Datrix
Mudafiatun Isriyah, Blasius Boli Lasan
Rezki Hariko, Indriyana Rachmawati
Eko Perianto
Widodo Widodo
Muhammad Ilham Bakhtiar, Suehartono Syam
Yulinda Siregar
M Fatchurahman, Bulkani Bulkani
Heru Sriyono, Sabrina Zahrin
Hamam Hamam
TERAPUTIK Jurnal Bimbingan dan Konseling (ISSN
2580-2054
for electronic version and ISSN
2580-2046
for print version) First published in June 2017 is a peer-reviewed scientific open access journal. The journal is dedicated to publishing articles concerned with research, theory development, or program applications related to counseling, applied psychology, and counselor education. The journal is concerned with the preparation and education of counselor(s) to apply counseling with high responsibility in agency or school settings; in colleges and universities; or other society levels. The journal is published by
Universitas Indraprasta PGRI
in cooperation with 
Ikatan Konselor Indonesia.

Authors who intend to submit a manuscript for publication in this journal obliged to understand correctly the instructions and the ins and outs of the provisions on this journal. For authors who have never published the article on this journal, we recommend reading all of the term and conditions are listed in the journal. Authors are requested to prepare a manuscript in accordance with the Instructions for preparation of manuscript and then to follow the Author Guidelines for submission. Before the manuscript is submitted to the editorial team, please make sure that your paper is prepared and refer to TERAPUTIK Journal for writing format and style (Please download the template for the initial manuscript submission). This will ensure fast processing and publication. Any papers not fulfilling the requirements based on the guidelines to authors with great regret will not be processed.

TERAPUTIK Journal published three times a year (February, June, and October). The author who will submit the manuscript after deadline of submission as long as meet the requirement for publication in this journal will be process for next issue. The paper submission and reviewing procedures in TERAPUTIK Journal will be processed with the web-based system via the Open Journal System (OJS) by Public Knowledge Project (PKP). We strongly prefer to receive manuscripts via our online submission system. With using our OJS system, authors can upload manuscript files (text, figures, and supplementary information) directly to our office and check on the status of Reviews their manuscripts during the review process. First, kindly please register as an author, and then you should login to submit your papers. Please don't forget to tick author when you make a registration. The most important things in this stage that all of the authors must have a ORCID ID, if you didn't have yet please make your ORCID ID in https://orcid.org/. Registration and login are required to submit items online and to check the status of current submissions. Copyright of all material published in this journal remains with the authors. Authors grant TERAPUTIK Jurnal Bimbingan dan Konseling the right of first publication.

The publication of the manuscript in this journal may be charges (APCs). APCs grant to the authors for cover publication cost. The APCs waiver can also apply or given for with some of the provisions. Please take a look Article Charges and waiver for detailed information.


Online Submission
Already have a Username/Password for TERAPUTIK Jurnal >> Go to Login
or Need a Username / Password? >> Go to Registration

Our Timeline and Publications
Do you want to look our latest publication >> Current
or See all our publication >> Archives
If you have some problem or questions, don't hesistant >> Contact Us

For quick response please send by email to teraputikjurnal@gmail.com. Please mention your subject: Your Name and what kind of your problem with our Online Submission system.  Our team will reply to all your questions or problems related to our Journals as soon as possible or at least 24 hours after you sent the message. Thank you for your patience.


This journal indexed and/or available catalogue in:

Connect with your personal academic repository and researcher hub:

Dedicated to:
Universitas Indraprasta Today
Upacara Memperingati Hari Pendidikan Nasional

Dalam rangka memeringati Hari Pendidikan Nasional, Sabtu (02/05/2018), Universitas Indraprasta PGRI (UNINDRA) menyelenggarakan Upacara Bendera yang diikuti oleh mahasiswa, dosen dan pegawai UNINDRA. Upacara bendera ini dilaksanakan di lapangan olahraga Kampus B UNINDRA. Pembina upacara Hari Pendidikan Nasional ini ialah rektor UNINDRA, Prof.Dr. H. Sumaryoto. Pemimpin upacara yang bertugas yaitu Haryanto, S.Pd., S.E., M.M Pasukan […]

The post Upacara Memperingati Hari Pendidikan Nasional appeared first on Universitas Indraprasta PGRI | UNINDRA.

Posted: 2018-06-03
More...

Dalang Cilik Binaan UNINDRA Pentas di Rusia

Merupakan suatu kehormatan bagi kampus kita, Universitas Indraprasta PGRI, ketika dalang cilik binaannya diundang untuk pentas kesenian Wayang Kulit di luar negeri. Dilansir dari warta Lessernewstoday, Kedutaan Besar Republik Indonesia (KBRI) yang berada di Rusia mengundang UNINDRA sebagai duta budaya dalam memperkenalkan pertujukan kesenian wayang kulit di Negara Beruang Merah itu. Pertujukan ini merupakan pertunjukan […]

The post Dalang Cilik Binaan UNINDRA Pentas di Rusia appeared first on Universitas Indraprasta PGRI | UNINDRA.

Posted: 2018-05-30
More...

Google Berikan Beasiswa untuk Dosen UNINDRA

Prestasi membanggakan tidak hanya dicetak oleh mahasiswa, akan tetapi dosen juga bisa melakukannya. Akbar Muchbarak, M.Kom dan Hendro Purwoko, M.Kom., yang merupakan dosen informatika, mendapatkan beasiswa dari Perusahaan Google bersama decoding. Belajar mengembangkan aplikasi atau game dengan kurikulum yang telah divalidasi langsung oleh industri dengan Decoding Academy. Pembelajaran untuk menjadi Android Developer Expert. Seperti yang […]

The post Google Berikan Beasiswa untuk Dosen UNINDRA appeared first on Universitas Indraprasta PGRI | UNINDRA.

Posted: 2018-05-15
More...

GLORASKA 2018, Mahasiswa Pendidikan Fisika Raih Juara Pertama

Aktif berpartisipasi dalam kompetisi tingkat nasional, kali ini mahasiswa UNINDRA mengikuti Kompetisi Media Pembelajaran Fisika (KMPF). Kompetisi terselenggara pada 31 Maret hingga 1 April 2018 di Universitas Lampung. Gelaran Olimpiade Sains dan Silaturahmi Pendidikan Fisika (GLORASKA) 2018 ini diwakili oleh dua mahasiswa Program Studi Pendidikan Fisika yaitu Rina Rahmawati dan Indra Yadhi Putra. Tema yang […]

The post GLORASKA 2018, Mahasiswa Pendidikan Fisika Raih Juara Pertama appeared first on Universitas Indraprasta PGRI | UNINDRA.

Posted: 2018-05-15
More...
Announcements
Thank you for your support succeeding improvements of the Teraputik Journal. We are truly pleased for you to be a significant part in this progress for reaching the better journal. We are committed to promoting all aspects of management, and substance on Teraputik Journal. For that, we would like to communicate to all reader(s) and author(s) that since Volume 2 No. 1 (2018) Teraputik Journal decides to apply the new templates and layout. Thank you for your attention.
Editorial Office:
Department of Guidance and Counseling
Faculty of Education and Social Sciences
Universitas Indraprasta PGRI
Campus A : Jl. Nangka No. 58 C (TB. Simatupang), Kel. Tanjung Barat, Kec. Jagakarsa, Jakarta Selatan 12530 Telp. (021) 7818718 – 78835283 Fax. (021) 29121071

Campus B : Jl. Raya Tengah No. 80, Kel. Gedong, Kec. Pasar Rebo, Jakarta Timur 13760 Telp. (021) 87797409 – 87781300

Website: https://unindra.ac.id/ ,e-mail: kampus@unindra.ac.id, teraputikjurnal@gmail.com.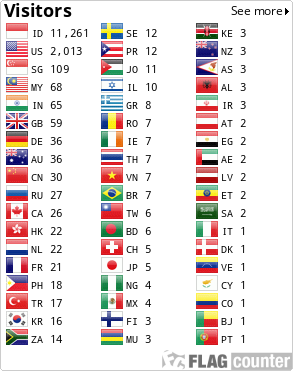 TERAPUTIK Stats